Digital Dozen: Breakthroughs in Storytelling
We're excited to announce that the Digital Dozen: Breakthroughs in Storytelling Awards have a special online gallery. Designed at first to highlight the most innovative examples of digitally enabled storytelling however over time our goal is to evolve the awards into an archive project that enables replay-ability of these groundbreaking works.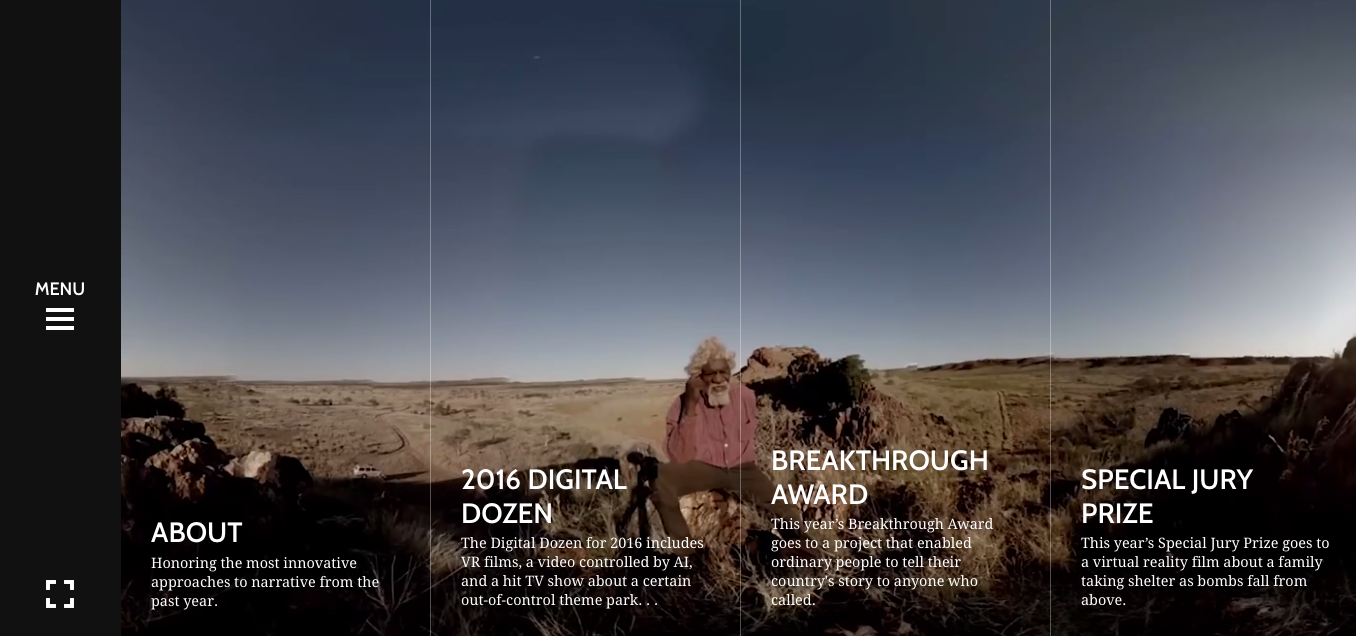 The Columbia University School of the Arts' Digital Storytelling Lab's "Digital Dozen: Breakthroughs in Storytelling" awards honor the most innovative approaches to narrative from the past year.
Columbia's Digital Dozen: Breakthroughs in Storytelling Awards recognize signal achievements across the wide spectrum of media that rely on digital technologies, including cinema, video, journalism, advertising, marketing, games, art, fiction, virtual reality, and experimental narratives. In citing these accomplishments, the Digital Storytelling Lab hopes to encourage creativity and innovation while furthering digital media's potential to break free of rigid, industrial-age classifications and evolve in ways that analog media could not.
Winners for 2016 were chosen by members and associates of the Digital Storytelling Lab and were celebrated in a program at Lincoln Center's Elinor Bunin Munroe Film Center on Wednesday, April 5. The Lab's top prize, the Breakthrough Award, went to The Swedish Number, a highly innovative marketing campaign for the Swedish Tourist Association that involved pairing callers from around the world with random Swedes. The VR experience Giant was awarded the Special Jury Prize—a collaborative workshop at the Lab designed to help spur the development of a new project. All 12 projects have been archived in a special online gallery maintained by the Lab.