Last chance to register for Sherlock Holmes & the Internet of Things
Sherlock Holmes & the Internet of Things MOOC runs August 23rd to October 6th
Quick reminder to let you know that this is the final week to register for the FREE Sherlock Holmes & the Internet of Things MOOC (massive online/offline collaboration).
Starting August 23rd storytellers, game designers, hackers and makers will step into a global storytelling experiment. Come join us as we reimagine the world of Sherlock Holmes. The Columbia University School of the Arts' Digital Storytelling Lab presents a new kind of MOOC – a FREE learning & doing environment – focused on storytelling and emergent technologies ‪like IoT‬, ‪AR‬, ‪AI‬, ‪and VR‬. Also this year we're introducing Artificial Intelligence (AI) through a special collaboration with IBM Watson.
The instructors for 2016 include; Lance Weiler, Nick Fortugno, Ele Jansen, Jörgen van der Sloot, Watson team members, The Baker Street Babes and more.
Since the start of the project over 2,000 collaborators from more than 60 countries have participated in 120 self-organized events around the world.
A few slots for the MOOC remain so if you're interested please make sure to register ASAP.
WANTED: Storytellers, Game Designers, Hackers and Makers
The MOOC features four special tracks
– Story
– Play
– Design
– Code
Learn how to design immersive story/play spaces that utilize
AI (artificial Intelligence)
IoT (internet of things)
AR (augmented reality)
VR (virtual reality)
Join over 2,000 collaborators from 60+ countries
Turn your ideas into working prototypes
Meet new collaborators and learn new skills that you can apply to your own projects
What people are saying about Sherlock Holmes & the Internet of Things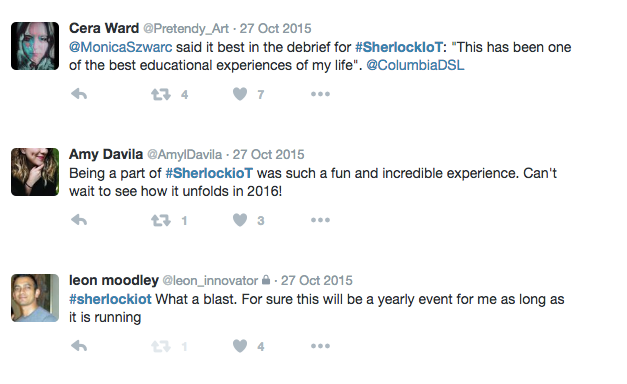 SPECIAL SHERLOCK EVENT for those in the NYC area!
Come join us as we reimagine the world of Sherlock Holmes! We're pleased to partner with the Columbia University Digital Storytelling Lab, IBM and the Made in NY Media Center to present a day long Sherlock Hack that mixes storytelling, the Internet of Things & Artificial Intelligence. Together we'll explore how to harness various Watson APIs and the Bluemix platform to create a number of enchanted objects. To RSVP for the SHERLOCK HACK click here.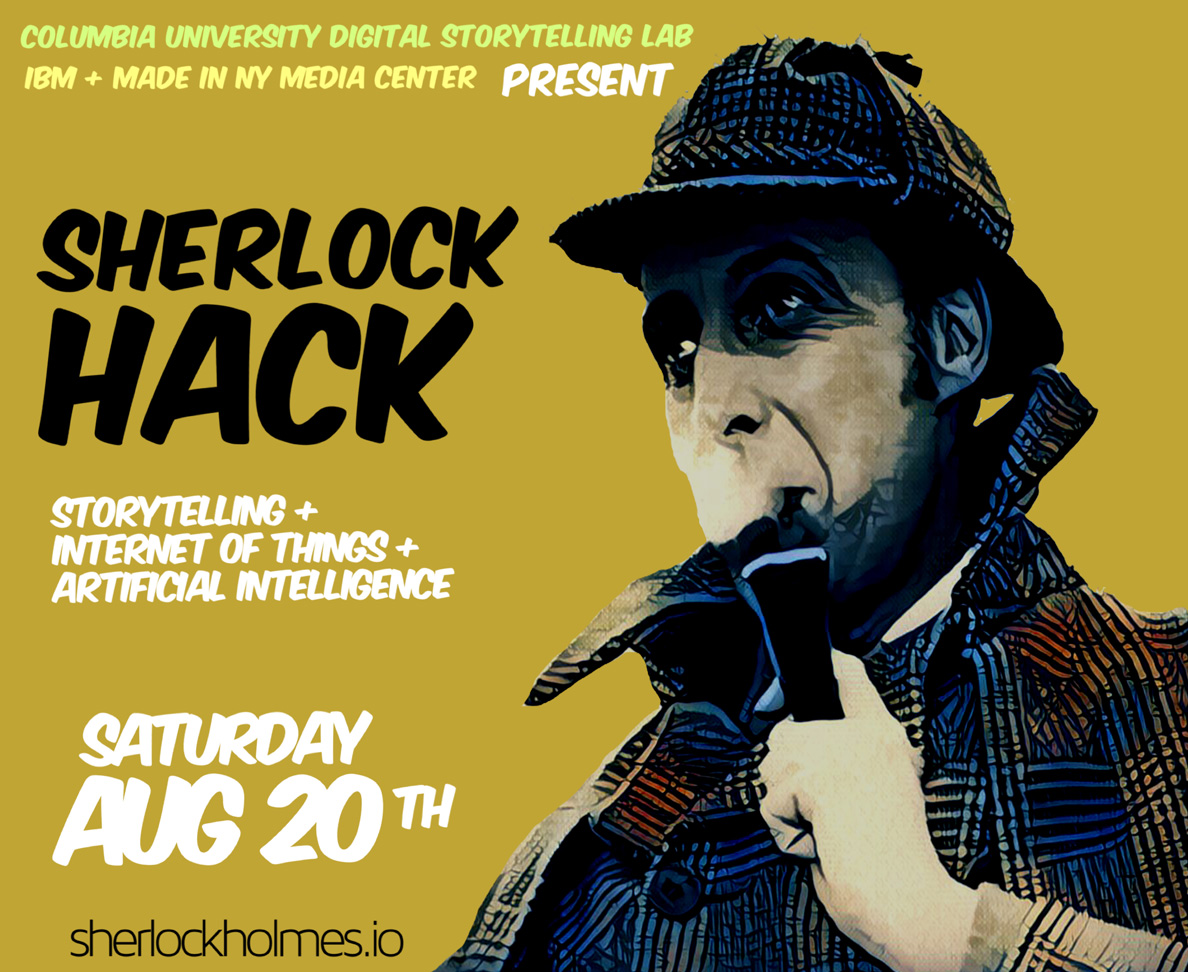 This hack is the first in a series of events that will help to inform a special presentation during the New York Film Festival on Oct 1st & 2nd. Work done within the hacks and meetups will become part of a massive connected crime scene that transforms Lincoln Center into a collaborative story and play space. For more details please visit http://sherlockholmes.io
———————————-
About
The Columbia University School of the Arts' Digital Storytelling Lab (aka Columbia DSL) designs stories for the 21st Century. We build on a diverse range of creative and research practices originating in fields from the arts, humanities and technology. But we never lose sight of the power of a good story. Technology, as a creative partner, has always shaped the ways in which stories are found and told. In the 21st Century, for example, the mass democratization of creative tools — code, data and algorithms — have changed the relationship between creator and audience. The Columbia DSL, therefore, is a place of speculation, of creativity, and of collaboration between students and faculty from across the University. New stories are told here in new and unexpected ways.
Join Columbia faculty and industry innovators as we explore the current and future landscape of digital storytelling.