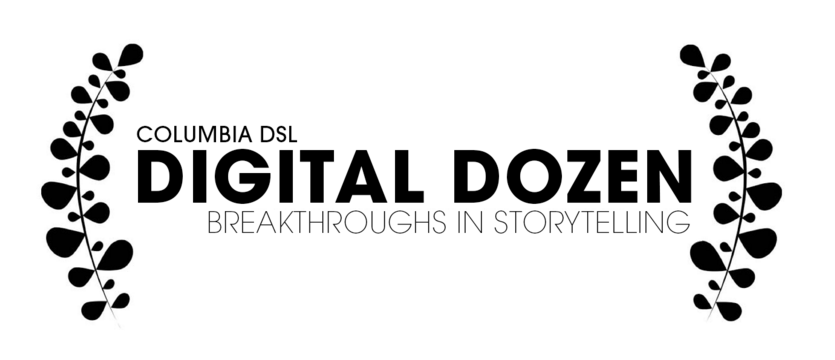 Celebrating Digital Narrative
The Columbia Digital Storytelling Lab's "Digital Dozen: Breakthroughs in Storytelling" program honors the most creative approaches to narrative from the past year.
Set up to encourage innovation, creativity, and an awareness of the myriad ways digital technology is changing the way we tell stories, the program is open to works from any field or discipline, including advertising, art, fiction, film, games, journalism, television, and theater. In citing these accomplishments, the Lab hopes to further digital media's potential to break free of rigid, industrial-age classifications and evolve in ways that analog media could not.
The works honored in the 2015 Digital Dozen included an ad campaign; a video game; an art installation; an experimental opera; an online community whose leaders have been targeted by murderous fundamentalists; and two journalism reports, one employing nonlinear narrative and the other virtual reality. Together they showed the extraordinary range of narrative technologies in use today, from simple blogging platforms to virtual reality to face-substitution software. The winners were celebrated in a special program at Lincoln Center that featured a roundtable discussion on the future of journalism with New York magazine editor Adam Moss and New York Times Magazine deputy editor Bill Wasik as well as a conversation on art in the digital age with New Museum curator Lauren Cornell and Rhizome director Zach Kaplan.
For the 2016 Digital Dozen, we would like to invite you to nominate any project you deem worthy of consideration. The only requirement is that nominees must have been first exhibited or published during 2016. Winners will be chosen by members and associates of the Digital Storytelling Lab and celebrated in a program at Lincoln Center's Elinor Bunin Munroe Film Center. In addition, one of the winners will be awarded a special jury prize: a collaborative workshop at the Lab designed to help spur the development of a new project.